Again we're back for the best little good gadgets that would turn your little home sweet home into a smart sweet home! Not only for you, but also for your beloved pets!
Let us make it more exciting to you and ask you few question to let you more excited knowing you will not face a struggle again opening your glass door again!
How much do you love your pet and you love their happiness moment when they get out? Really happy
Our little pets are one of the family members of our and their jumping all around when seeing us as well their runs outside the back yard makes them as most exciting than seeing a Big tasty sandwich in their food plate. Our little pets would stay our favorite and how much big and huge they grow the much they would stay as our "Little" child no matter what, and their happiness is as much priceless ever!
As we mentioned before that our pets are our little child and one of the family member, as well, the only one family member who wont be able to open the door for themselves or ever slide the glass door to open it and rush out playing with the tree outside and running all around and jumping. It's not really a problem to us if were're at home, but wont that really make them feel lonely if you're not home to open the door for them?
Because we don't wanna imagine how awful this feeling could be within our beloved pets being trapped inside your house specially if there's no one there for the whole day, we all have a busy ones that force us to stay outside the house for over a whole day.
That's why we searched for the best solution for our little ones!
Wayzn – Automatic Sliding Pet Door Opener
Finally after a good search we found that you don't have to spend so much money specially within your little home even if not that smart you can make it as smart as it could simply be automatically sliding openly for your little pets! better that destroying your door within a holes that your pet would grow older and bigger and may not be too easy and painful for them by time to pass through and even easier for an unwanted other pets to go through and even not safe for your house!
Now you can Convert any sliding glass door into an automatic, app-controlled pet door with added security thanks to Wayzn !
Simply you can have the app-controlled pet door—no permanent damage within your house or changes to your residence. More secure than standard pet doors, Wayzn provides your pet a reliable way to access the yard anytime, no matter where you are.
Why Wayzn?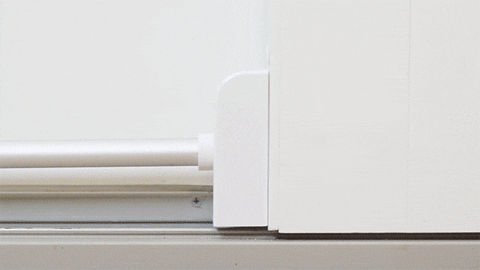 Wayzn is the mostly affordable and most secure way inside your house and even compatible with all smart security cameras, best of all that you can control it through your home integration such as Alexa if you already have one, you can schedule and use it automatically or even manually modes, yet low profile and non permanent way you can ever use, whenever you want to deactivate it and hide it, you can simply do so!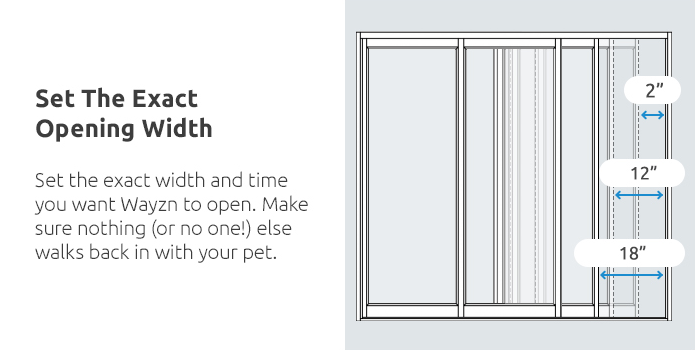 Wayzn is a 3 minutes set up for an easier life and even giving you all the security you need! No worries even if your slide door is quite standard it would simply work and installed through your door in 3 minutes maximum and ready to use!
Wayzn's motion sensors know when your pet needs out and works with your integrated camera to let them back in. No additional steps for you!
Integrating Wayzn with smart cameras will show you who or what has triggered the sensor. Other IoT devices, such as the Amazon Echo, can help open your
door if you can't reach your phone.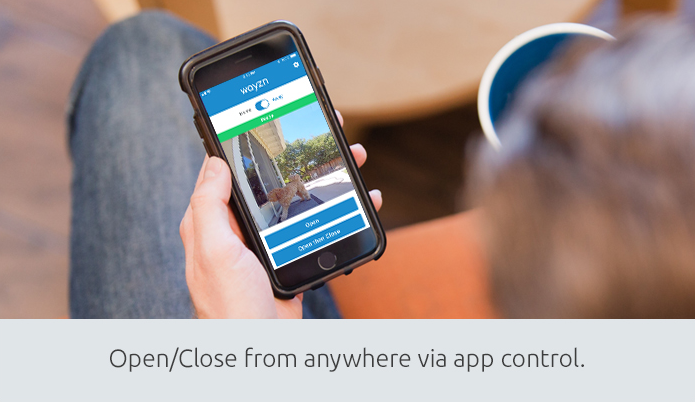 Not only your pets can take advantage of this!
How many times you get to hide keys around the house because you forgot yours inside your house! Imagine how dangerous this could be! Someone could be entering your house whenever they want without extra effort, just by finding your keys and you wont really be surprised if you entered your house and found an unwanted visitor inside ! Scary much we guess!
Now you can control your door opened and closed whenever you want using the app over your smartphone to open the door if you're outside and forgetting your keys inside!
Even would work well if you got visitors whom home already but they cant enter because the doors are locked and you're not inside!
You don't need to leave earlier from work when you can just unlock the door for them now simply using the app! and watching them from the security camera safely going inside!