Having a Smart home is one of our top listed that we all want to have, But most of us cant afford it though we would love to search for a plan B. That's why we want to help you, understanding your aims and willing to make good values of little things that may turn your house easier to deal with and more fun with little devices and still get your dream house of the same home you got to grow up in!
Less effort and less money, you don't have to buy a new smart house and start turning yours into a little smart comfy one, we all love our homes and we get a feeling of comfort coming back home, a little touch of technology that may light up a new brain for your house would be so much fun and more comfort for your stay in.
We cant turn all your house into a smart one planting a brain on the top of the roof, but at least we got you one of the best gudgets that would be beneficial to place your hands on.
SwitchMate
SwitchMate helps you to turn your little apartment into a smart one in less than few seconds, even doesn't require any tools, wires, or even so much work to get to install it.
Just place the device to the switches you got at home and you will be a 1 tap away from home with no much effort!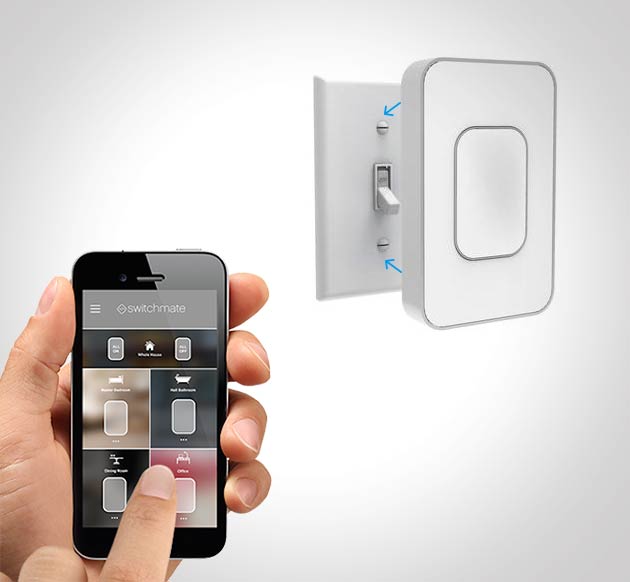 Use the App to get the ability to control your house with your phone, switches on and off with a tap, the app pairs with the device via Bluetooth as quickly as you will ever pair anything. No much hustle for the installation whatsoever and will directly work properly one you adjust the device inside your house!
Switchmate has also a timer function so you can schedule lights to turn on and off when you're away from home at work or away on vacation.
Remember when you used to get in your warm bed in winter and getting so comfortable regardless the cold weather out of your bed but you forgot the lights on and you had a long day and you just started to get lazy that you don't wanna get out of warm sheets just to turn lights off?
Old Days Are Done,
Now you can turn on and off the lights just with your smartphone or just tap on the device a one click and get control of it, you don't need to reach the switcher anymore.
Away from your home and forgot few switches on?
No problem at all, just turn them off with a one tap on your smartphone and feel safe form the electricity bills, yet you wont need to get home in dark when you can turn lights on exactly how you like, and don't let your keys fall in darkness and turning flash on to search for them.