We all have a family time when you look around and feel thankful for the beloved ones running around here and there in your house, the mess and the noise they make but it would never mess your head up, because you actually feel comfortable with the mess and the noise around and you will feel lonely if you never feel them around! We all know this feeling and we searched for the things that would be preferred to be used inside and outside your house and the best for you and for your beloved ones!
The Techo Autowater
This device is amazing and amazing would be so not enough to describe how great this is!
The Techo Autowater is a device that you can just connect with your own old taps you got in your house and BOOM YOU GOT IT!
in less that 5 minutes! and you're good to use it!
The Techo AutoWater is simply adjusted to your tap with 2 powerful sensors for turning the tap on or off without touching it, just move your hand beside it and control it to be on or off! this would actually be helpful specially for not spreading germs, we use our tabs to wash our dirty hands and the Techo Autowater will prevent germs to spread over your beloved one hands!
That's not it! you can choose now the more eye comfort color and default it as the Techo Autowater got motion sensors, you wake up in dark night and you need to use your tap to wash something up, your tap will get to feel your motion around and turn the little light up for you for a better vision in darkness, at least perfect enough so you wont hit anything while walking around blindly !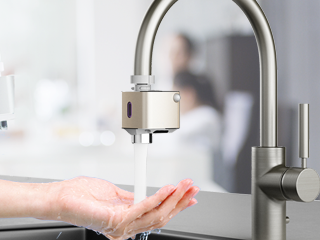 The Autowater will save you Water, its for quick use.
Also enjoy the time off protection, you don't need to worry anymore about the little ones who sometimes forget the taps on at night and water kept on till the next morning! The AutoWater will turn off the water with the time off protection to save water for you!
Also the great thing about it is that it's a magnetic charging, the device can last for 8 to 12 months for every single charge !
So what are you waiting for? Save the water drop now!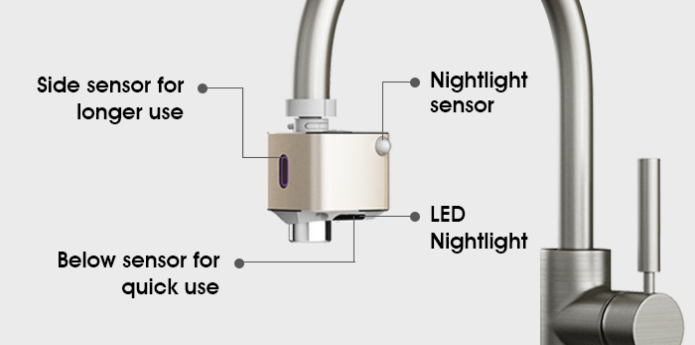 ---
Tado° Smart AC Control V2
We all got that family member who forgets everything around right? We just solved the water problem Although we still got another problem! Specially if we got an AC and that person who forgets everything, he's the last one who leaves the house!
Tado now got your back! Introducing the Smart Climate Assistant for your AC, taking better care of your home and saving up to 40%
Turning the air conditioner down when the last person leaves the house and what makes it even more cool that we want to get home safe and sound with a cool temperature than the hot days we walk through the whole day outside your house, the Tado will track your location when you're close and about to get home and starts to cool again when it detects the first person returning and knowing . This can reduce your AC's electricity costs by up to 40%.
The Device would be notifying you over your smart phone and can work with any AC that can be remote controlled.
No Worries after all!